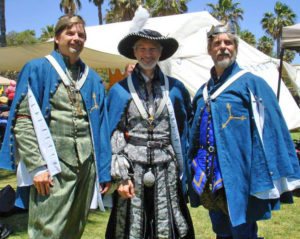 The Order of Defense is one of the four SCA Bestowed Peerages, along with the Order of Chivalry, the Order of the Laurel, and the Order of the Pelican.
Companionship in the Order of Defense is granted to those who have excelled in rapier or cut-and-thrust combat. Members of this order are referred to as Masters and Mistresses of Defense.
It is the duty and responsibility of The Order of Defense to stand as examples of chivalry and valor to the populace, maintain and enhance the standards of honor and prowess in rapier combat, to instruct and impart such knowledge as befits our rank, and to advise The Crown to the best of our ability.
On March 7, 2015, at opening court of Calafia-Gyldenholt Friendship Tourney 2015, TRM Mansur and Eilidh invited Baron Alexander Kallidokos, Master Laertes McBride, and Don Colwyn Stagghorn to be created the first three Masters of Defense of Caid. They were elevated together into the Order at Darach Anniversary on May 2, 2015.
On the event of the first Order elevations, the necessary changes to Caid Kingdom Law were announced (The Boke of Caidan Law, 17th Edition, May 2015).